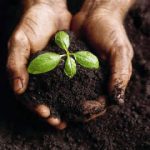 If you would like to make your garden the envy of your neighbourhood with the best soil in Stockport, Lindow Turf is proud to be of service. For many years, we have developed our products to match the top-notch standards expected by our customers. We pride ourselves in a reputation of supplying premium soil and a variety of gardening and landscaping products. We offer an unrivalled quality selection of soil at the best prices to suit your needs, preferences, and budget. As suppliers of British standard top soil and premium border and flowerbed soil, we are confident that our soil is just what your garden needs.
All of our soil is a premium grade standard. In Stockport, soil is not only delivered for you, but you also get our experts' advice on the quality and composition of your soil and make the right recommendations. What's more, you can order in any quantity. From the moment you choose Lindow Turf, you will experience excellent professional service. What makes us unique is that we source our soil from virgin lands then blend it with a shot of nutritious organic matter thus the extra bit of zest. Whether you want to improve the structure or nutrient content of your soil, at Lindow Turf, our soil is specially selected and guaranteed to exceed your expectations.
Soil in Stockport is amongst the finest that the country has to offer. Our expertise ensures that each order is efficiently completed thus guaranteeing the highest possible standards of soil to our customers. Customers' satisfaction and peace of mind are our delights. Contact Lindow Turf for top-quality soil. We like our clients to feel that they had great service. Our friendly team will not only be happy to help you but also offer useful tips on ground preparation and advice on aftercare. Other than premium grade soil, we are pleased to offer fertilisers, rock salt, bark mulch, lawn seed and turf. We thrive on good communication, pleasant delivery drivers and satisfaction in the products you receive. Your garden will ultimately love our soil.