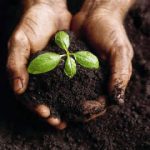 Soil in Cheadle from Lindow Turf is fundamental to the success of our turf and therefore our business as a whole. As we've grown, we've made other garden products available, including seed, fertilizer, mulch and play bark. We pride ourselves on our quality turf. However, as professional landscapers, we know our turf needs a nutrient dense foundation to mature and be strong enough to resist drought, insects and foot traffic. Your lawn comes under attack from every direction. So before we install our turf or grass seed, we work about six inches of our sandy screened top soil into the existing dirt. It's essential to a lush, healthy and long lasting lawn. Careful nurturing of your turf will give it the opportunity to put down strong and deep roots. That's how you can count on a healthy lawn that endures year after year with just basic maintenance.
Our sandy screened top soil is blended for ideal water drainage. For lawns in Cheadle, soil that is sandy allows the water to slowly sift through without pooling. We also have a special garden blend topsoil that is excellent for your border flowers. When you hire our team of landscapers, we provide professional but friendly customer service. We gladly undertake any size job, large or small. When we use our screened top soil, you can count on an excellent outcome. We don't cut corners or use inferior products ever. Our reputation is based on results that everybody can see. We want to make sure they like what they see. There is one right way to prepare the foundation and lay turf. That's the only way we do it.
Soil in Cheadle that is right for the job is our screened topsoil or garden blend at Lindow Turf. We offer expert garden design for any sized space, install the turf and other plants and use essential follow up care. But first, we add our nutritious top soil that ensures success. Contact us for full landscaping services, or order your topsoil and garden blend to work into your lawn or garden yourself. We are always happy to make suggestions or offer advice. We guarantee our customers satisfaction and we'll do whatever it takes to achieve the expected outcome. We think you'll be pleased with our efficiency and low prices as well.