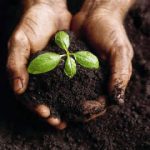 For amazing additional soil in Alderley Edge, you can get in touch with the top soil specialists. Whether you need fillers for your land preparation before you place your newly purchased lawns, or you are looking for new and nutrient-filled top soil to add to your current garden or flowerpots, you will always find quality products at Lindow Turf. Top soil is normally the upper layer of the ground, normally filled with organic matter, which makes the land more fertile and allows the growth of vegetables and flowers, and consequently, thrive. However, in many cases such as where there are concrete or lots of construction work going on, top soil will be scarce and will need to be purchased from your local soil company.
We have different types of top soil, and if you are not too sure which one will be most perfect for your needs, get in touch with our personnel who are trained and qualified to provide you with the best solutions. In Alderley Edge, soil, surprisingly, can become scarce. However, rest assured, we are here to supply you with quality products, perfect for use in your garden, flowerpots and many more. We have premium soil that is screened and free from all types of weeds, and they contain all the required organic matter to help your plants or your lawns grow. Furthermore, they can also be used for borders. If you are looking for beautiful natural borders, you will need a constant supply of soil, especially if they are located near high foot traffic areas.
Other than quality top soil in Alderley Edge, we also provide a healthy range of fertiliser, premium quality lawn turf, mulch and everything you will need to have a beautiful, well-maintained garden. If you are interested to find more about our products, contact Lindow Turf today. Should you need assistance with laying the turf, landscaping or with garden maintenance, we will be delighted to help you. Our expert team is also trained and qualified as gardeners. We offer free expert advice and suggestions.