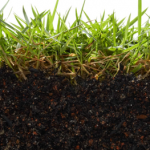 Gardeners love knowing that loam in Mobberley is available to them because loamy soil is great for any garden. Added to your garden, it ensures that the soil will drain easily, it has more humus, provides a better habitat for advantageous microorganisms and will also help it retain water. Every gardener knows that good soil is important for growing a healthy garden and the best soil texture for growing plants is loam, soil that contains sand, silt and clay. It is also higher in nutrients than other soil. At Lindow Lawn Turf, we have fantastic garden products together with excellent customer services. Our customers rely on us for this good combination. Our turf is high quality and that is because we are landscape gardeners who take great pride in our products and services.
For your garden in Mobberley, loam introduced the soil spells beauty and strong growth. No gardening job is too big or too small for us and we have a wealth of information and can provide tips and advice on how your garden can benefit from our products. Our turf, for instance, is made of high quality seed and is weed-free too. When customers purchase their turf from us, they are always 100% satisfied. Coming up with great garden and lawn products does not happen overnight, but our wonderful sandy loam is free of lumps and stones and is ideal for turfing and lawn seeding. We offer it in bags and truckloads at reasonable prices too.
Loam in Mobberley always has an excellent balance of ingredients and is friable – loose and crumbly so that air can be mixed with the soil which is important for healthy plant and grass growth. If you are interested in adding a little extra help to your garden's soil, consider our loam. Contact Lindow Turf today and receive your top quality loam. You are welcome to ask our expert team any questions you may have about our loam. Our prices are competitive and we take great pride in our excellent customer services. We aim for 100 % customer satisfaction.