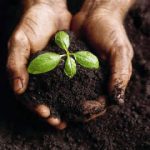 When you need great quality top soil in Heald Green, remember Lindow Turf. As expert gardeners who pride ourselves on quality services and quality products, we understand the many benefits of top grade soil. Topsoil should be regarded as the most important component of your garden. It doesn't matter if you are landscaping your garden, or you are rebuilding your flower beds, it is extremely important to use the right soil. Topsoil is the top layer of soil visible on the surface of the earth. Organic matter, such as decaying organisms, that are present in the soil give it a darker shade than the soil underneath it.
For property owners and gardeners in Heald Green, soil, especially topsoil, helps to improve the quality of garden soil. If you are looking for an effective means to improve the soil of your property, speak to our experts for advice on the most appropriate topsoil for your garden. We are happy to provide advice and suggestions. If the soil in your garden heavy, sandy and dry, or if it is clay, topsoil will improve the quality of the soil to enable the healthy growth of plants. We are proud to offer different types of topsoil to our customers. The first is sandy Screened Top Soil. This topsoil is ideal for laying lawns on or seeding. The second is our nutritious Border Blend Soil, typically used for  Borders and Flower Beds. Other than topsoil, we also offer loam. It is a sandy loam, and is screened down to about 8mm to remove any lumps and stones. This soil is perfect for turfing on and lawn seeding.
Top soil in Heald Green will provide the plants in your garden with the nutrients they need to thrive. If you would like more details, or a quote on our top soil, contact Lindow Turf today. We can also assist with turf, both the supply and the installation. Along with turf, we are happy to provide recommendations to ensure that your turf grows healthy and strong. Choose our topsoil for a stunning garden. This is especially true if your are planning on growing vegetables in your garden. With our top soil, the vegetables growing in your garden will be healthy, ready for harvesting.