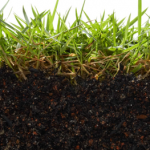 Our high-quality soil in Cheadle is some of the best available. Topsoil is found in the topmost layer of the soil.  It is the part of the soil which has all the nutrients that the plants need to flourish and grow strong.  Topsoil is often used to replenish gardens and lawns.  By adding topsoil to the existing lawn and beds in the garden new mineral particles and organic matter are put back into the soil.  These are depleted over time and would normally take 100s of years to form naturally.  Fertilizer will replace some of the chemical nutrients that have been used but it cannot replace the natural organic matter that is most important for the growth of plants.  The organic matter consists of bacteria and countless other organisms that aid the plants' absorption of the nutrients needed to grow properly.
This is the time of year to plan your garden maintenance for spring. In Cheadle, soil can be used to fill newly created flowerbeds, fill hollows and holes on the lawn and deliver much-needed nutrition to all areas of your garden. Preparing your lawn early can make maintenance for the rest of the year easier as the grass has time to thicken before the first mowing. This will generally encourage a smooth and soft lawn for summer. Without good quality topsoil, little plant life is possible. Rain can wash away nutrients and topsoil and this may need to be replaced. As the grass grows through the topsoil it will hold it in place but over time the organic matter and mineral elements may become depleted.
We offer a wide range of products including soil in Cheadle. Our prices are reasonable and our products come in various quantities. Contact Lindow Turf today and order as much or as little soil as you need. We have a large selection of other gardening necessities including artificial grass for areas where natural turf cannot survive such as small courtyards or concreted areas where children play. Our experienced team can help you to design and landscape your garden with efficiently organised plans and will make sure the project is completed to the highest standards.