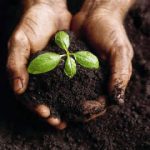 Are you looking for good quality soil in Bramhall? Our screened soil is perfect for turfing and lawn seeding. So, if you are looking for extra soil to fill up your garden or you need it for growing flowers and vegetables, you will find everything you need at Lindow Turf. We have been providing our customers with amazing products for all their gardening needs, and if you are looking for a reliable and honest company, we will be glad to assist you. When it comes to growing vegetables and flowers and other plants, you will always need a good supply of fresh soil that is rich in nutrients.
Existing soil will lose their nutrients and vitality if they have been used to grow plants without being fertilised or replenished. In Bramhall, soil can be bought in bulk bags or even loose. Depending on how much soil you need for your projects, we can arrange them in manageable bags, or we can deliver them loose to you. We also have rock salt and border blend soil as well as mulch bark. If you need any advice or recommendation when purchasing soils, you can always give us a call. Our staff members are well versed in their field and will be glad to provide you with the necessary information. Besides topsoil, we also have turf that we harvest fresh to deliver to your doorstep. Our turfs are perfect for backyards, sports clubs, playgrounds and gardens. So, if you have any queries, or you are interested in getting your products from us, please don't hesitate to give us a call.
For a regular supply of quality soil in Bramhall, please get in touch with Lindow Turf. We can provide you with everything you will need for landscaping projects and all your gardening needs. For more details about our soil, contact Lindow Turf. We offer competitive prices and work closely with our customers to guarantee complete satisfaction and peace of mind, and we are determined to go the extra mile for our clients.