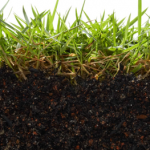 When you start with the right soil in Stockport, you'll have ample grounds for success. At Lindow Turf, we are proud of our reputation for excellent products, knowledgeable assistance, affordable pricing and our 100% focus on customer delight. We have many decades' experience in the professional landscaping industry, and that makes all the difference to the health and growth of your garden. Whether you need assistance with a home garden, commercial space or grounds keeping, we're glad to help. We also have extensive expertise in garden and landscape design, and undertake to complete an entire project from start to finish, no matter how big or small.
Regardless of the type of garden in Stockport, soil quality is of prime importance. There are six major types of soil found in the UK: sandy, loamy, clay, chalky, peaty and silty. Each one of these has its own benefits and drawbacks and can support various different types of plant growth. In addition, soils have another property called pH that measures whether it's more acidic or alkaline. This quality also affects plant growth. Knowing your soil type helps you to select the right mix to ensure the health and growth of the kind of plants you want to put in. A simple way to test soil is to roll it between finger and thumb. Sandy soils feel gritty and loose, clay soils have a smearing quality and are sticky and easy to roll, silty soils are slippery, soapy and don't bind easily. If you want to test for chalky soil, drop a bit of it in a jar of white vinegar and see if it froths because of the presence of calcium carbonate (chalk). Loamy soils are the best, with a mix of all types including organic matter. Most plants prefer a slightly acidic soil type.
We offer screened top soil composed of sandy loam, with all lumps and stones removed, and this is the ideal soil in Stockport for lawns and gardens. To find out more about our available soil, contact Lindow Turf. Top soil is the uppermost layer that supports both initial and sustained plant growth. It's used for making plant-beds, borders, raised-beds or as a base for laying lawn turf.