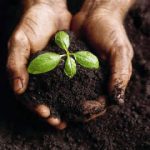 Ensure you get premium quality loam in Hale Barns for healthy, strong plant growth. At Lindow Turf, we offer only the best-quality turf, soil and landscaping-products. Our experience and knowledge of this industry is second to none and we are proud of our reputation in the local communities we serve. Today, our customers expect and receive only products and services that conform to the highest standards. Before you think that all this may cost an arm and a leg, our prices are sure to delight and surprise you. Being  professional landscape gardeners ourselves, we know exactly what it takes to create the perfect conditions for the health and strength of your garden, lawn or grounds.
We undertake the supply of fresh, perfectly balanced, nutrient-rich loamy soil. The texture is just right to hold the amount of water your plant needs without getting over-dry, flooded or slushy. In Hale Barns, loam is an essential component of gardening and agriculture.  It usually comprises less than 52% sand, 28 – 50% silt and a smaller amount of clay. In practice, gardeners tend to take almost similar quantities of silt and sand, with the addition of a little clay. Sand helps to provide good drainage and aeration, silt provides the binding properties, while clay has rich nutrients but is too heavy, gets waterlogged and doesn't breathe. When all these three are available in the right balance, your plants get their share of nutrients, and they also get enough air to breathe. Many people make the mistake of simply adding sand to clay soil. This can result in a hard, cement-like soil, unsuitable for healthy growth. Silt and organic matter help to keep the soil well-drained and they attract beneficial microorganisms too.
When you purchase loam in Hale Barns from Lindow Turf, you also get the benefit of the right advice and assistance from our highly-experienced, dedicated and friendly team. Though there are many good companies that offer good quality soil, it's important to get the right advice and assistance. For more details about our affordable loam, contact Lindow Turf. We give you the right information and the available options to suit your requirements, preferences and budget.