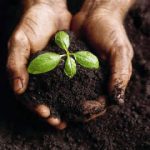 Have you ever thought that maybe quality top soil in Cheadle Hulme could be the step to a greener, healthier garden? If you are looking into ways to improve the growth and health of your plants, then you may want to check into the soil. If the soil that your plants are currently growing in lack nutrients, then it's sure that they will not grow as expected. Soil will start losing their nutrients and in the long run, and won't be suitable for growing neither vegetables nor flowers. Top soil is generally the upper layer of the ground and is most suitable for flower and vegetable beds as well as border planting, and they can be quite limited.
At Lindow Turf, we stock different types of topsoil, ranging from the economical to premium quality products. In Cheadle Hulme, our top soil is suitable for turfing, borders, lawn seeding and so on. You can always talk to our staff members if you are not certain about the differences. Our beautiful sandy screened top soil is perfect for lawns, and we also have nutritious top soil for border plants. We will be happy to provide additional information. Besides, our prices are quite attractive. The topsoil comes in bags of 20 kg to 20 Tonne loose loads. We also have different types of fertilisers that you can mix to the top soil later on to ensure better results. Whatever it is you require, you will find that our products are top-notch. Plus, we are always pleased to cater to all your requirements whether large or small.
The great thing about ordering your top soil in Cheadle Hulme, is that you can also benefit from our doorstep delivery! We will pack up the top soil and deliver it to your desired location as quickly as possible. Whether it's a small DIY project or a large landscaping job, you can always count on us to deliver right on time. For more details about our top soil, contact Lindow Turf. We are landscape gardeners who pride ourselves on the level of service that we offer our customers and we work closely with them to ensure complete satisfaction and peace of mind.