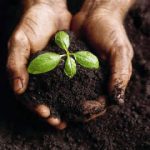 For top quality soil in Cheadle, pay us a visit at Lindow Turf. Despite earth covering a huge part of the planet's surface, good soil is in short supply. Soil holds all the necessary nutrients for vegetation to grow healthily and also for soil organisms to survive. Unfortunately, healthy soil is not everywhere. That is why we focus on delivering top quality healthy soil to all our clients. Those who enjoy gardening and landscaping can attest to the importance of good soil in your home. Healthy soil breeds healthy vegetation while poor soil gives poor results. We ensure our clients receive the soil they need to grow what they want.
Different types of soils serve different needs. For a gardener in Cheadle, soil is the biggest determinant of whether their garden will bear fruit or die off. If you are looking to set up your own garden at home, we are experienced in the field of garden design. From the soil we deliver to the turf we lay, no job is too big or too small for our professional team of landscape gardeners. We only deal with the best soils available on the market and set up healthy gardens and green landscapes. We work closely with all our clients in order to deliver on their requirements and surpass their expectations. When the client is uncertain on which soil to go with, we provide sound advice that will be beneficial to the client not just to our business.
Lindow turf has been dealing in the delivery of soil in Cheadle for years. We have a team of professional landscapers and gardeners with unparalleled experience. We provide quality services and products at competitive rates. Moreover, we deliver on our promises and ensure all our clients are fully satisfied. If we promise a beautiful garden, we deliver a beautiful garden. Our team is committed to not only impress but also outdo themselves. Contact us today for the best services and products in town. We are willing to go the extra mile to get you the garden you desire, take the small step and contact us.