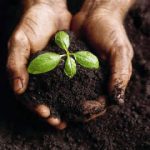 Top soil in Bramhall is one step in the creation of a beautiful and healthy lawn and flower beds. If you skimp anywhere in the process; using inferior turf or grass seed, the wrong mixture of fertiliser, nutrient-poor topsoil or flats of flowers left to dry out, your project will fail to thrive. You might be able to keep grass and flowers alive for a short time but if that topsoil isn't screened properly you'll be pulling weeds and if it's nutrient-poor plants will die out. That's an unfortunate outcome since it takes the same amount of time, energy and money to do it right; especially when you buy your products from us.
As landscapers, we want to achieve results we can be proud of whether we do the work, you do it yourself or somebody else does it. For our customers in Bramhall, top soil that is nutrient dense with the right mixture for seeds and flowers to thrive is not sold at every garden shop. So much of the product on the market is a poor quality that is selling packaged in plastic bags so you can't even see what you're buying let alone handle it. Quality top soil has a texture you can recognise if you know what you are looking for. There is no hard clods, no visible pebbles or vegetation mixed in and the rich dark colour soil sifts through your fingers. We'll sell it to you in bags but you get to have a look at what you're buying. Many people will buy anything because they don't know what to look for. We want our customers to know why our products make a difference.
The same expertise we bring to formulating our top soil in Bramhall is used in all our products that complete each step of your project. You'll find it in our selections of fertiliser, moisture holding mulch for landscaping around flower beds, turf and grass seed. As we perfect one product we endeavour to add new ones that will meet our standards and yours without busting your budget. Contact Lindow Turf with any questions about our products and how to use them for best results. We think good customers are educated customers so when they buy from us they'll know why they're getting value for their money.