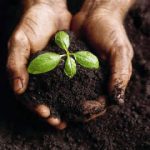 Gift your garden and lawn with health and strength with our top-quality soil in Stockport. Lindow Turf is a family run business with more than four decades' experience in this sector. We have established a reputation for supplying premium quality screened top soil, border blend soil, fertilizer mixes, turf, play bark and a variety of gardening and landscaping products. Being a local business based in Wilmslow Cheshire we have maintained strong ties in the local communities over the years. We have earned a name for supply of excellent quality products at sensible prices to suit your unique needs, preferences and budget. The soil choices we offer are our own beautiful, screened sandy top soil which is the perfect choice for lawns and seeding, or our rich and nutritious border blend that's ideal for flowers beds and borders.
Your garden, lawn or grounds are in fact the best advertisement for our business. In Stockport, soil quality may be poor in some areas, and not suitable for growth of healthy plant life. We can advise you on the quality and composition of your soil and make the right recommendations. You can improve the soil quality by adding more nutrients and/or organic matter like humus, manure or garden compost. Soils with heavy clay content cannot support good plant growth, though they are inherently rich, as they retain water. This can be improved by mixing in the right proportion of coarse grit or sand to enable better drainage.
Soil in Stockport should be mixed to the correct blend to suit the kind of plants that need to grow in it. For instance, plants with shallow roots or tap roots need different types of soil. You can improve quality based on the minerals that different vegetables or flowers need. Certain crops can improve the soil quality, so planting a small section of your garden with these can be of great benefit in future. Contact Lindow Turf when you are looking for top-quality soil.  Our highly-trained experienced team can give you useful tips on ground preparation, raking and laying the turf. We can also help you with advice on after-care like watering, feeding and mowing.