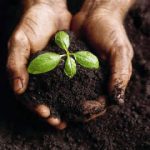 As well as supplying superior quality top soil in Alderley Edge,  we also supply border blend soil for flower beds and borders. We supply our top soil in various quantities and the smallest amount is a 20kg bag. Our largest single quantity is a 20 tonne load which contains enough screened sandy loam soil to cover almost any size area. The top soil is screened to approximately 8mm to remove any lumps and stones. As the nutrients are used up in the soil you will notice that the plants do not grow as vigorously as they previously did. This is often because the micro organisms and nutrients are no longer available in the quantities needed.  All good topsoil has millions of micro organisms which help convert nutrients into a usable form.  Fertilising a garden that cannot convert the nutrients into food is a waste of time and money.
We supply top grade products for all gardening needs.  In Alderley Edge, top soil is one of the most important for good lawn growth. The great benefit of top soil is that with aeration of the lawn and water the micro organisms will once again be able to supply your plants with the nutrients they need.  An inch of top soil can take a thousand years to form so it should never be taken for granted. Many people use the topsoil as a dressing for the lawn to rejuvenate tired grass.
We supply top quality top soil in Alderley Edge at very reasonable prices. Contact Lindow Turf today and find out about our wide range of lawn care products.  These include artificial grass as well as fresh, high quality turf, grass seeds, fertiliser, bark and rock salt for ice in winter. We are also experienced in the field of garden design and our professional team of landscape gardeners will ensure that each project is efficiently organised and completed to the highest standard. We make sure that the cultivars we supply are shade tolerant and have good disease resistance. Our play bark is used extensively in kid's nurseries and schools while our bark mulch is used for borders and paths.