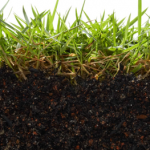 Our lawn turf in Wilmslow is fine in appearance and hard wearing with excellent all year round colour. The cultivars we use ensure that the lawn is shade tolerant and has very good disease resistance which keeps your future costs to a minimum. Our turf is used in both domestic as well as commercial applications and is also used by local authorities. We supply everything needed to establish a healthy lawn from the topsoil substrate to the fertiliser to help get the grass to grow strong and healthy. The top soil and fertiliser can also be used on existing lawns to increase nutrition and aid growth.
Everyone wants a beautiful green lawn that requires little maintenance. In Wilmslow, lawn turf is easily installed and we offer advice on how to get the best out of your new lawn. The ground preparation is one of the most important aspects of a healthy lawn as it is the base for the grass to grow strong in the future. If the soil is not correctly prepare it will never produce the best results. Soil needs to be turned over thoroughly to a depth of around 15cm and all stones, weeds and debris must be removed. Level the soil off until the entire area is evenly firm and level. Never walk directly on newly laid turf or the prepare soil, use planks or boards to distribute the weight. Place the turf strips abutting each other without leaving any gaps. Water well as soon as the turf is laid and continue watering daily until the grass has properly rooted.
We are a family run business that supplies quality lawn turf in Wilmslow. Contact Lindow Turf today and see our wide range of lawn and gardening products. We have over 40 years of experience in the business and supply many different products for landscaping such as bark mulch which is suitable for borders and paths, play bark which is used in children's nurseries, in school playground areas and outdoors in pubs and restaurants. We supply high quality  screened top soil of sandy loam which comes free of lumps and stones and is perfect for the underlying substrate for new turf and for lawn seeding.