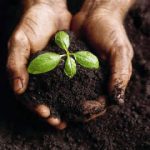 Topsoil in Sefton is a necessary addition to your garden for its health. If you are looking for quality and affordable topsoil, we can assist. At times, our customers ask about the necessity of topsoil. If you enjoy gardening but are hoping for a healthier garden, add topsoil to the soil.  Simply put, topsoil is the top layer of soil in which all plants grow. Additionally, it contains all the nutrients that plants need to survive. Add nutrients and nourish your plants by adding excellent quality topsoil. You will experience delight at the difference it makes in how your garden flourishes.
For your garden in Sefton, topsoil is an excellent choice if you want to fill up raised beds. It is also suitable for repaired areas that have eroded, as well as filling in any holes. Another great use of topsoil is for our lawn. If you're planting a new lawn or just adding seeds to a patchy area, a thin layer of topsoil can help protect the young sprouting grass seeds.  We offer two different options for topsoil. You can choose either beautiful sandy screened topsoil, or the nutritious border blend topsoil. The sandy topsoil is suitable for when you lay a new lawn, whereas the border blend topsoil is ideal for your flowerbeds and borders.
Topsoil n Sefton is but one of our garden products on offer. We can also assist with premium grade turf for a beautiful lawn, as well as loam and MOT aggregate. Also on offer is contractors bark mulch, and different types of granular fertiliser. We're professional landscape gardeners and take great pride in our services, prices and products. You are welcome to contact Lindow Turf for information regarding topsoil for your lawn or garden. We offer competitive prices. Our expert team will work closely with you to ensure your complete satisfaction. Choose our quality topsoil that ensures professional results at the lowest possible price.