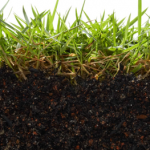 Our best quality loam in Alderley Edge boosts plant growth and enhances health. Lindow Turf can supply excellent loam soil to match your specific requirements. Just tell us what you need it for – whether it's for flowerbeds, lawns, sports grounds, commercial or residential gardens, vegetable gardens or turfing. Our team can put together the right combination at the right price. We can also give you the right inputs on providing the right amount of water and nutrition to suit the plant growth that you have planned. You can download our price list from our website. It gives you details about our rates for different products, minus the standard delivery charges.
This is a term that refers to the texture of the soil. In Alderley Edge, loam is one of the terms used to describe a type of soil. When you can gauge the soil's texture, it makes it easier to know how it will behave and support plant growth. Sand, silt and clay are the three main components in any soil. These materials are created by the breaking down of rocks over thousands of years due to different weather, environmental and climatic conditions. Sand is the coarsest component, and feels gritty and sharp when rubbed between your fingers. Silt has a floury feel to it when dry, while clay is soft, fine and sticky in texture. The proportion of each component in any given quantity of soil determines its texture and quality. Soils also contain organic matter from leaves, tree bark and dead animals.
What makes loam in Alderley Edge ideal for plant growth is the optimum pH level. This means that the acidity level is ideal for plants to get nutrition. Loam is one of the soils that promotes and supports plant growth. It is a well-balanced mixture silt, sand, clay and organic matter. Loam has a higher calcium content which reduces the salt content. It gives the soil a looser texture, allowing air to enter and increase the health of plants. Contact Lindow Turf about our available loam. Our experts can give you more information and useful advice.