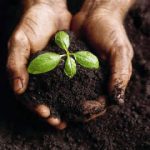 Get the most out of your lawn, grounds or garden with our top quality topsoil in Prestbury. Lindow Turf is a leading supplier of excellent quality topsoil. We also offer turf, contractor's bark mulch, rock salt, border blend soil, granular fertilizer, professional amenity lawn seed, fertilizer mix, and more. We check these products thoroughly for quality. They're available in convenient sized bags ranging from 0.5kg to 20kgs. No matter how large or small your requirement, we are glad to be of assistance. Our team has the training and experience and will give you the right advice and information.
For garden lovers must chose in Prestbury, topsoil carefully to suit the type of plants, turf, and vegetation that it has to support. In many places, the original soil available in the location may not be of the correct type. It may not give the right amount of water, air and nutrition that plant growth needs. Soil also plays an important role in retaining enough water while draining off the excess. I provides the right environment for soil-dwelling organisms that give organic benefits, and serving as a living eco-system. Our team understands the importance of ensuring that the environment remains green and healthy not just for this generation, but for future ones too. Land that has been used for construction, agriculture, etc may be highly degraded and that's why a layer of healthy topsoil can help to balance these negative effects.
Our high quality topsoil in Prestbury is great for turfing, borders, beds or growing vegetables. You can use it to raise the levels in low-lying areas of your garden or grounds. The layer of topsoil you need could vary between 2 and 8 inches in depth. A fresh layer gives your plants a great start in the growing phase, with a nutrient-rich mix of minerals, and the right pH levels. Geologists report that it takes nearly a century to create every inch of top soil. When you are looking for top quality topsoil for your garden, contact Lindow Turf. The process involves weathering of rocks, addition of organic and decayed plants and animals. These provide the right drainage, support, nutrition and fertility.