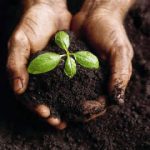 We supply topsoil in Bramhall and a wide surrounding area. From time to time, a customer will ask what's so special about our topsoil. To them, dirt is dirt and if you loosen it up you can plant anything in it. That is true. However, you may not be happy with the health of your plants; they may not even grow. If you feed your kid on nothing but junk food, is he going to grow healthy and productive? Not likely. His body needs a balance of nutrients to develop correctly and mature. There's junk food and nutritious food. There is dirt and there is nutrient-dense topsoil. We sell two options of topsoil. We have a nice sandy topsoil that enhances drainage and is perfect for laying turf or for seeding your lawn.
Our ideal topsoil for turf is what we use for our landscaping customers. In Bramhall, topsoil is applied at least 6" deep once the ground has been prepared. To prepare the ground we strip off any existing turf. Then we till the ground and rake it smooth. Now it's ready for topsoil to be worked into it. We plant the turf or seed the lawn, knowing the fragile roots can penetrate deep and receive the needed nutrients to thrive. Add some rain and sun. We also have rich dark topsoil prepared especially for your border flowers. All of our topsoil is screened of rocks and weeds to a premium blend down to 8mm. We sell it by the 20 kg bag or loose loads or 10 or 20 tonnes.
Count on us for topsoil in Bramhall as well as many other garden supplies. We have mulch, play bark, fertilizers and more. As landscape gardeners, we strive for a high level of excellence in our product development so our customers enjoy beautiful lawns and gardens that reach maturity and continue to last. We're here for aftercare follow up as well. We guarantee our customer satisfaction. Contact Lindow Turf for information regarding topsoil for your lawn or garden. We have designed a formula that ensures professional results at the lowest possible price.