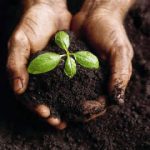 Lindow Turf has the loam in Handforth that is the perfect foundation for laying new turf or seeding a lawn. Our grass seed and turf is top quality but it still needs a properly prepared base. That's where you want a few inches of our sandy loam top soil. It's nutrient dense so your lawn will thrive. The sand in the loam assures water will drain properly. You don't want water to drain away so fast the roots don't receive enough moisture. You also don't want the water to pool so that roots stay saturated and rot. So the ratios of sand, soil and clay need to be exact for grass and ours is. It's finely screened so no lumps, stones or vegetation is visible. Our sandy loam will give your lawn the best start for a healthy lawn that is strong enough to resist drought and insect invasions.
We are professional landscape gardeners with an excellent reputation. In Handforth, loam and our other products have proven to be high quality. Add to that our highly skilled service and personalised customer service and you can see why we guarantee customer satisfaction. The products we sell and the services we provide will result in a beautiful garden for you. Just to make sure that happens, we offer follow up care, advice and information you need for normal maintenance. You want to give your garden lawn every opportunity to thrive so it will come back stronger year after year. The more mature the lawn, the easier it is to care for and the less likely it is to succumb to insects attacking its roots, and the play of children and pets.
Loam in Handforth is available in quantities suitable for most any new lawn. If you are doing your own installation, we'll help you figure how much loam you will need along with the quantity of turf or seed to complete the job. If our team is installing your lawn we want it to thrive as promised, so we use our own products, including our sandy loam. Contact us when you are looking for loam.. If you need garden design assistance we have landscape designers on staff to help you make a plan and see it through to successful completion.