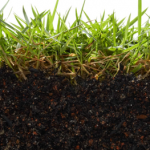 Lindow Turf is where to get soil in Stockport for both your lawn and garden. We have a finely screened sandy loam that you would use to start a new lawn. It's the right mix for both turf and seed. However, consider using it for top dressing to freshen up your existing lawn. Even a mature sturdy lawn gets low spots, bare areas and maybe some thatching that needs to be taken care of. When filling low spots, mound the soil up so when it settles, it will be level. For the bare spots, you don't have to put more than ½" of soil to freshen it up. The same is true for mossy thatch. Rake that out and add a little top soil. Then seed over the areas where you added new top soil. Those spots will fill in nicely and you'll always be ahead in maintaining your mature lawn.
We are also well known for our rich border blend of topsoil that is perfect for keeping your flower beds and border plants happy and healthy. In Stockport, soil that is screened down to premium level is all we sell. You won't find rocks, plants and clay balls in our soils. We sell our topsoil in bags or bulk, whichever you need. We can also supply you with professional quality lawn seed and fertilizers to go along with the topsoil. We have what you need to get a healthy new lawn or a patchy old lawn looking good. If you want to tidy up your landscape with a border of fresh mulch, we can supply it to you. Spread some in the kids play area to help keep the weeds out and provide the kids with a soft landing.
You may wonder, why trust us to have the answers to your soil in Stockport and other lawn care needs. Well, we are professional landscape gardeners with many years of experience. We didn't get it just right the first time but we experimented until we came up with the perfect combinations for turf, grass seed and topsoil. This is what we use for our own landscaping projects with great success. We think you'll have the same experience. Contact us for prices, other questions and information about our products and services. We offer a 100% customer satisfaction guarantee.