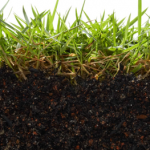 We know about loam in Stockport and the difference our nutrient-dense topsoil will make for your lawn. You can purchase and install the finest turf but it's all for nothing if you skip on the ground preparation. Since we sell the best of both products, turf and topsoil, we can make sure your project turns out right. You will often hear loam and topsoil used interchangeably. That's not quite accurate because there are classifications for topsoil based on the components that make up the topsoil and their ratios. Loam is a classification described as such because it's mineral composition is 40% each of sand and silt and 20% clay. There can be variations on those ratios but the loam we recommend and sell to prepare the ground for seed or turf is sandy loam.
Our loam is screened down to 8mm to eliminate even the smallest clods and rocks. For lawns large and small in Stockport, sandy loam is the ideal addition to nurture a healthy lawn. We sell our special blend loam by the bag or the tonne. Combine our loam with our premium turf and you have the ingredients for a successful garden or playing field. However, the job has to be done right so if you don't have a professional for preparation, we have landscapers to do the job for you. Ground preparation is critical to successfully growing sod or grass seed.
Part of preparing the ground with loam in Stockport is working the sandy loam into the tilled ground, not just spreading it across the top. You can use a tiller to work it in thoroughly.  We also carry a line of fertiliser to help in the deep rooting and strength of your lawn. We have another topsoil blended especially for your flowering borders. You can expect big beautiful healthy flowers when you work the high nutrient topsoil into your border flower gardens. We continue to expand our line of fine products and now include mulch and aggregates to define the areas of your garden. Contact us when you are ready to begin installing a new garden and we can offer a great deal of information and advice for success. Our experience and fine products come highly recommended.