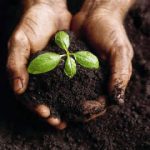 Have you ever contemplated the importance of quality top soil in Wilmslow? Most of us don't pay any attention to this topic, especially during the winter when it's too cold to get out into our garden. However, top soil is one of the most important layers of soil. It is where plants take root. There are many nutrients present in this layer which help plants bloom. Top soil may is followed by subsoil which covers a layer of rocks. Sometimes this soil layer can be very thin, making it difficult to distinguish between the other layers. This is where Lindow Turf can help. We supply some of the best quality top soil to homes and gardens around the UK. Our top soil is responsible for some of the most beautiful blooms in the county.
If your plants are not taking root or flowers fail to bloom in Wilmslow, top soil is likely to be blamed. But rest assured, this situation can be improved with our top soil. We offer a wide range of products and services to help your garden grow. Some of these include sandy, screened top soil and border blend soil. Screened top soil is most suitable for laying a new lawn or seeding. Our border soil range is excellent for flowering blooms and borders.  We also supply top quality bark mulch, granular fertilizer, lawn seed, fertilizer mix, high-quality turf and rock salt. In addition to high-quality lawn products, we're your experts in lawn preparation and aftercare. Our lawn services include preparing your lawn with a cultivator or spade, raking, laying the turf, watering, feeding and mowing.
If you want your garden to be the most beautiful one in the neighbourhood, we recommend getting quality top soil in Wilmslow. Get in touch with us at Lindow Turf and we'll ensure you get the best materials for your garden. Our nutrient-rich top soil is responsible for some of the best looking gardens in the UK. Yours could be too!