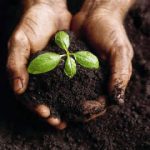 Excellent quality topsoil in Handforth is exactly what your garden needs. When you choose good quality topsoil, your garden will thrive and flourish. It contains organic matter full of nutrients from dead plants, insects and animals. Adding topsoil to the soil is a great way of improving the nutrient richness of your garden. We understand how important quality topsoil is. As such, as specialists, we take great pride in our excellent quality products, and top class customer care. If you are searching for the best topsoil for the health of your garden, we are available to assist.
We offer two types of excellent quality topsoil to encourage your garden to thrive. Hence, in Handforth, topsoil on offer includes sandy screened topsoil and border blend topsoil. Each type of topsoil is the perfect addition to your garden. Whether you are laying a new lawn, planting seeds, or establishing flower beds, our topsoil is the perfect choice. We have mastered the ideal combination of nutrients your soil needs in order to support the growth of a thriving, abundant garden. In addition, our topsoil meets the required health and safety standards. You can't go wrong when you choose our topsoil for your garden. Furthermore, our prices are highly competitive too. Our experts can suggest the right amounts you'll need for your size garden.
Your search for the best topsoil in Handforth stops when you give us a call or pay us a visit. In addition, we also offer premium grade turf, ideal for any application. For more details about our quality topsoil, contact Lindow Turf right away. Furthermore, we offer other gardening-related services including laying of turf, mowing, watering, supply of fertilizer, gardening, lawn seeds and mulching. Hence, our expert team is available to offer advice and suggestions for any of your queries.  Trust an established company for the best topsoil for the health of your garden. Give us a call today and find out more.