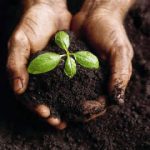 For your garden to thrive, excellent quality topsoil in Chelford is what to choose. Topsoil is great because it is full of all the nutrients that are necessary for the healthy growth of plants. If you are searching for the best quality topsoil for your garden, give us a ring. We only offer premium quality topsoil. As such, it does not have any small stones and neither does it have any other impurities.  Our topsoil ensures that the plants in your garden have the right nutrients for excellent health and growth. Furthermore, topsoil also helps your plants to establish strong roots. Plus, they will also have good drainage too.  Topsoil is the perfect addition to your garden.
We offer two types that are perfect for your garden's needs.  Hence, in Chelford, the topsoil we offer includes our sandy screened topsoil and our nutritious border blend topsoil. The first is ideal for when you are laying a new lawn or for lawn seeding.  Our border blend topsoil, our second option, is great for borders and flower beds. In addition, you can purchase just the amount you need. Thus, our topsoil is available in 20 kg bags, right through to a 20-tonne load. You'll also find that our prices are highly competitive.  We're happy to deliver large loads to your property. In addition, we can assist with calculating the exact amount of topsoil you need for your size garden.
Choose the best topsoil in Chelford for the optimum growth of your garden.  bloom.  Topsoil can make a world of difference to the health and growth of your garden. The upper, outermost layer of the earth, topsoil provides the right balance of essential nutrients. It makes perfect sense to add topsoil to your garden. Every plant in your garden will benefit from our topsoil.  For more details about our premium quality topsoil, contact Lindow Turf today. We're committed to providing an exceptional service, excellent quality products and great prices to all our customers. Watch your garden bloom with our great quality topsoil.