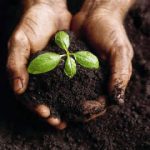 For the best quality topsoil in Handforth, remember Lindow Turf. Our topsoil is more than just soil. Our topsoil is nutrient dense that provides the right tools for your plants to grow. Topsoil is essential for the healthy growth of your garden. From the outer layer of the earth, topsoil contains vital nutrients. It takes years to form, and as the rocks break down, they form into tiny parts. During this process, other organic matter mixes with it, resulting on the perfect soil for plant growth. At Lindow Turf, we offer only excellent quality topsoil. We offer a sandy topsoil that enhances drainage and is perfect for laying turf or for seeding your lawn.
For the optimum growth of your garden, it pays to add nutrients. In Handforth, topsoil is perfect for any garden. If you expect your plants to thrive, adding quality topsoil is an excellent option. We also have rich dark topsoil prepared specially for your border flowers. All of our topsoil is screened of rocks and weeds to a premium blend down to 8mm. We sell it by the 20kg bag or loose loads or 10 or 20 tonnes. Topsoil is not only for flowerbeds. It is also a great addition to turf. Before you lay your turf, ensure the ground has topsoil mixed in it. In this way, you can be sure of a healthy, vibrant lawn.  For advice and answers to any of your questions, our experts are on hand to help you out.
You can rely on the quality of our topsoil in Handforth as well as many other garden supplies. As such, we have mulch, play bark, fertilizers and more. Moreover, as landscape gardeners, we strive for a high level of excellence in our product development so our customers enjoy beautiful lawns and gardens that reach maturity and continue to last. We're here for aftercare follow up as well. We guarantee our customer satisfaction. Thus, if you are looking for the best quality topsoil for your garden, contact Lindow Turf today. We have designed a formula that ensures professional results at the lowest possible price.