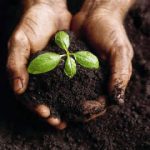 Here at Lindow Turf, we pride ourselves in our top quality top soil in Stockport and have made it our mission to provide our customers with only the best soil and turf in the area. Our team of experienced landscape gardeners will work closely with you and ensure we provide the most suitable soil for your landscaping project, no matter the size or scale. We are constantly improving the quality and formula for our topsoil so you can be confident you will be getting the highest quality product every time.
Of all the landscaping companies in Stockport, top soil is usually the benchmark for quality. It is an intricate process to create a well-balanced soil that will nourish the grass or other plants that will call that soil home. The loam needs to be just right, providing nutrients and minerals, all the while allowing for the correct level of water saturation and drainage. At Lindow Turf, we are confident that our top soil meets and exceeds these criteria due to constant development and experimentation over time. Our experienced team of landscapers will work with you every step of the way to ensure you get the perfect top soil for your project. We will take into consideration the type of earth that is already present on location and will adjust our soil to benefit the area to the greatest extent for the ecosystem there.
It may seem like a walk in the park when it comes to buying top soil in Stockport and it can be with Lindow Turf. There are many variables to consider when landscaping an area and if the incorrect product is used, you may find yourself with a costly mistake that will be expensive to fix. Contact us today, and we can help and advise you on what type of soil you may need for your project. Let us take the hard work out of laying soil for you. We have helped many clients achieve their dream landscaping projects before and we want to help you achieve that dream too with our expert knowledge of the industry.