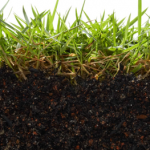 Start with top soil in Poynton from Lindow Turf if you want a garden that will be the envy of the neighbourhood. Don't let our name fool you; we do sell the finest greenest thickest turf but there's a few critical steps that need to be taken before that turf goes down. These are the steps most do-it-yourself landscapers tend to skimp on. It just doesn't seem that important for some to do the preliminary removal of old turf and turning over and loosening the soil. Then you need to top it off with a few inches of our nutrient rich top soil followed by laying the turf. Unfortunately, many figure dirt is dirt so they light scrape the old turf which probably contains weeds and lay the sod. When it doesn't grow well they are inclined to blame it on the lousy sod.
If a strong building needs a solid foundation how much more does a healthy garden need a sound and healthy root system? For your garden in Poynton, top soil serves as a strong foundation for your plants. Do you have neighbours that lay new sod or over-seed their garden every year? You are not supposed to have to do that if you do it right the first time. How about your flower beds and borders? Did you just dig out the old plants and stick in new ones with maybe a little fertiliser. If the flowers have a half-starved look it's because they are half-starved. The stems should be sturdy and green and plant colour vibrant for truly healthy looking plants.
We have two types of top soil from which you can choose based on what you want to plant. Our screened sandy loam which is ideal for lawns either seeded or turf. It drains well and is free of all stones and vegetation. Then we have our beautiful rich black top soil that makes a beautiful flower bed or border bursting with healthy flowers. Call us and tell us what you want to plant and we'll give you our recommendation for top soil. We want your planting endeavours to be successful which is why we stress a healthy foundation of our top soil.